Please note that the browser you are using is either outdated or not supported by this website. For a better browsing experience, try one of the following:
Three Very Select Italian Whites
Tuscany - 2014 Montenidoli Vernaccia di San Gimignano Fiore, Campania - 2015 Azienda Agricola Reale Aliseo, Alto Adige - 2015 Cantina Valle Isarco Kerner Aristos
July 17, 2017
&nbsp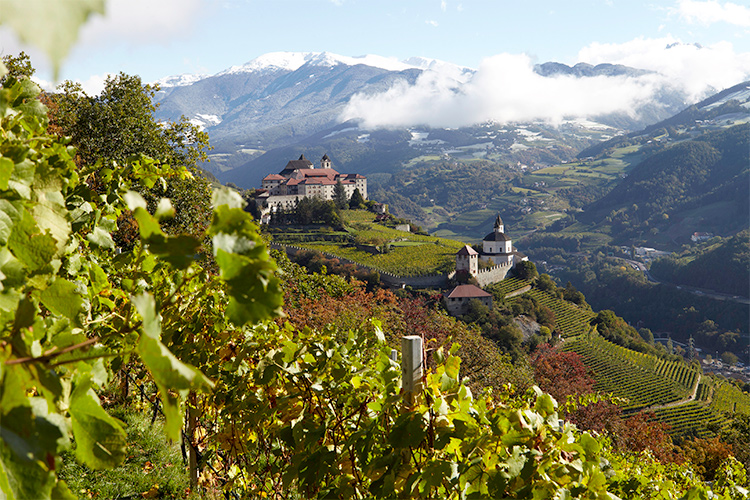 Valle Isarco
One of the first Italian white wines to achieve some fame here in America was Vernaccia di San Gimignano from the hilltop towered village in Tuscany. The vine was originally planted centuries ago by the Etruscans and vine sites carefully chosen on the highly calcerous soil in the hills around the town. As is true in famous white wine areas all around the world there always seems to be one producer who stands above and produces profound wines. Elisabetta Fagiuoli of Montenidoli is the one in San Gigminano. The 2014 Montenidoli Vernaccia di San Gimignano Fiore is from prime vineyards, organic and low yield. The wine is made from the first free run juice and kept on the lees for an extended time. The result yields a wine with elegance and finesse, roundness and persistence. It also ages very well, gaining in complexity as it does.
                Those of you who have visited the Amalfi coast are familiar with the impossible crazy beauty of the area. If you scale up  the mountain from the coast the town of Tramonti awaits your exploration. This little village is an enclave of a few small wineries and is also the birthplace of pizza. In fact chefs in training from all over the world come to Tramonti to learn the art of pizza. That aside, one of the most special wineries in the area is Azienda Agricola Reale, owned by brothers Gigino and Gaetano. Their vines look like trees and are all prephylloxera, average age 100 years old. The 2015 Agricola Reale Aliseo is a blend of three ancient white grapes, Biancolella, Pepella, and Falanghina. The wine has amazing texture and balance and is almost musical in effect, that is it makes any kind of seafood sing.
                Speaking of impossibly beautiful places, our third wine hails from the Isarco Valley in Alto Adige. This is the Austro-German part of Italy. It became part of Italy after WWI. The Eisektaler Kellerei Cantina Valle Isarco is a property that sits in the mountains of this ancient land and produces profound wines from walled terraced vineyards at very high elevation. The 2015 Cantina Valle Isarco Kerner  is an intense, robust and expressive white wine.  Kerner is a grape that came about in the early 1900's in a cross of Schiava and Riesling grapes. The result, when made like this, is amazing.
2014 Montenidoli Vernaccia di San Gimignano Fiore:  Aromas of ripe fruit, flowers, tea, and saffron. Richly flavored and refined. Will also age well.   Excellent  21/bottle  214/case
2015 Azienda Agricola Reale Aliseo: A bouncing combination of flowers, fruit, herbs and white pepper. Perfect balance of bright acidity and subtle complexity in the finish.  Excellent  25/bottle  255/case
2015 Cantina Valle Isarco Kerner:   Refined and clean aromas. White pepper, ripe citrus, peaches, apricot and zesty tropical notes and a floral, tart apple finish.  Excellent  26/bottle  265/case
Special mixed case: Four bottles of each of the above for a special price of $245 
Order by phone at 617.367.8605, or reserve here: peter@federalwine.com
&nbsp
Please pass this on to any friends who are wine enthusiasts.
&nbsp
- Peter Hemenway
&nbsp