Please note that the browser you are using is either outdated or not supported by this website. For a better browsing experience, try one of the following:
Paolo Scavino Barolo Dinner: Updated Menu
Tuesday January 22, 2019, 6:30pm, at Mamma Maria. Read on...
January 22, 2019
Paolo Scavino Barolo Dinner
Mamma Maria
3 North Square,Boston
Tuesday 1/22/19 6:30pm
Reservations: 617.367.8605
or call 617.367.8605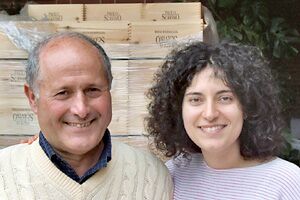 Mama Maria has sent us the menu for the Paolo Scavino dinner with Elisa Scavino on January 22nd. She is a very smart and charming representative of her family estate. I have been visiting Paolo Scavino for years now and they produce a number of top flight single vineyard Barolos. We will be showing the current release of two of the Barolos as well as finishing with a sixteen year old Barolo Bricco Ambrogio.
As usual the wines will be served with excellent and fresh choices from Mamma Maria's kitchen. Please inform the restaurant of any dietary requirements.
We have several reservations already from yesterday's email. These dinners usually sell out, so it is wise to reserve soon to assure a place.
Reception
2017 Langhe Bianco Sorriso
Antipasto
Fresh buffalo milk mozzarella from Campania
- featuring 2018 olio nuovo - fresh press olive oil
from Titone Agricola Biologica in Sicily
2016 Barbera d'Alba Affinato In Carati
Pasta
Westmoreland, NH farm-raised oxtail pasta dumplings
with a classic spicy cacciatore sauce
2014 Barolo
2014 Barolo Monvigliero
Principali
Grilled rib chops, roasted loin and Merguez sausage
with heirloom carrots, toasted almonds, poached figs,
and Sardinian couscous
2003 Barolo Bricco Ambrogio (3L)
Dolce
Meyer lemon panna cotta, homemade granola,
and hazelnut biscotti
135/person tax and tip included
- Peter Hemenway
&nbsp
&nbsp
&nbsp