Please note that the browser you are using is either outdated or not supported by this website. For a better browsing experience, try one of the following:
Loosen - Some of the Finest New Breed German Dry Riesling
at the best prices
March 21, 2018
&nbsp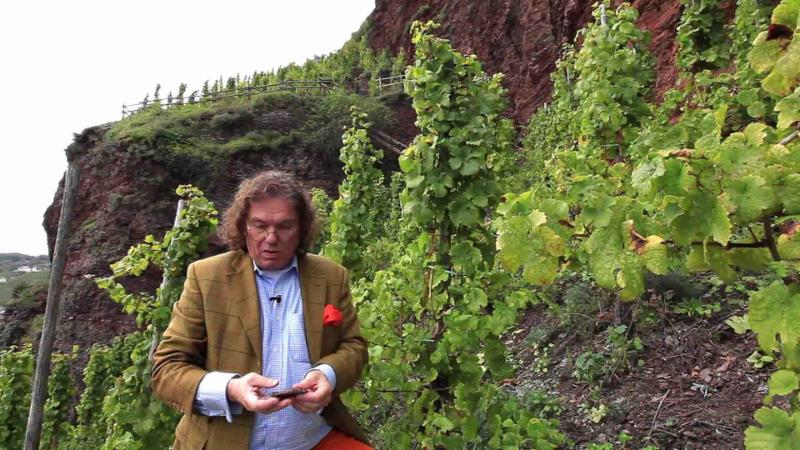 Ernie at the red slate Pralat vineyard
GGs, short for Grosses Gewachs are Germany's equivalent of deep and complex grand and premier cru burgundies. By law they must be dry and can only come from vineyards that were recognized as great over 100 years ago. In my recent tastings these Riesling wines have shown the depth, complexity, and richness of some very fine white Burgundies.
Ernie Loosen is most widely known for his everyday Dr. Loosen Rieslings. Connoisseurs know him for his very fine wines from top Mosel vineyards Wehlener Sonnenuhr, Urziger Wurzgarten, and his 'Montrachet', Erdener Pralat. He began making versions of these traditionally semisweet wines in dry versions a decade ago. The results are very impressive.
I have followed these wines for several years and have been stunned at their quality.
The 2015 Dr. Loosen Urziger Wurzgarten Riesling Fischerei GG is newly released. Fischerei is a specific parcel within that vineyard. This is the first year that Ernie has made it as a GG.
Tasted last week, it is an extraordinarily powerful wine, as dense and concentrated as any in that fine vintage. Wurzgarten means spice garden in German. After hours decanted the wine's bold and dry minerality let out the lightest of hints of the savory spice that will emerge. This is a wine for the cellar. I think it will develop nuance for a good 10 to 20 years. If you like the strength and power of Raveneau or Dauvissat Chablis, of a white Hermitage, or a Batard Montrachet, this wine is for you.
We have also been lucky enough to receive at extraordinarily good prices two Loosen Reserve GGs from the more supple and forward 2012 vintage. GG's normally stay in large fuder, wood casks, no more than a year before bottling. Ernie is aging his alte reben, old vines, reserve wines for two years, adding depth, complexity and age-worthiness.
Wehlener Sonnenuhr makes comparatively refined wines of articulation and finesse. The 2012 Loosen Wehlener Sonnenuhr GG Alte Reben Reserve is already seductively approachable with decanting, but will age, I think, for a another 10 years at least.
The 2012 Dr. Loosen Erdener Pralat Riesling GG Alte Reben Reserve is a powerful, deep end, and brooding masterpiece. The almost vertical Pralat vineyard frequently produces the richest and ripest of the rich spicy wines in Erden and Urzig. This wine is a powerful and complex interpretation of grape and vineyard.
My notes below are from a tasting in New York a year ago. David Schildknecht's Vinous notes were made in 2016. He says for both wines that "I was not fully convinced of [their] merit until I re-tasted after more than a year in bottle."
These wines arrive tomorrow. The 2012's are in very limited quantity as noted. We might have to allocate.
2015 Dr. Loosen Urziger Wurzgarten Riesling Fischerei GG; Aroma: Fresh fruit more than slate, edgy, clean firm; Excellent - Outstanding $60; Case of 6, 299, (49.84) 160 cases made
2012 Dr. Loosen Wehlener Sonnenuhr GG Alte Reben Reserve; Aroma: Rather rich & pretty, full, floral, ripe, herbal notes, bright, a touch of reduction, both fresh and oxidative notes; Mouth: Deeper rather heady, softer rather riper acids, thick to the touch, not heavy, ample, long finer acid, fine delineated minerality; Outstanding
Schildknecht "a flatteringly creamy, lees-enriched texture combined with generous apple juiciness, pungently and piquantly accented with pineapple core, vanilla and apple seeds. A luscious finish is underlain with mossy wet stone. Like this wine's author, I suspect that the late-bottling approach will be conducive to enhanced ageworthiness, but ... cannot yet be based on any track record."
Was $95, now $75 Net 18 bottles only
2012 Dr. Loosen Erdener Pralat Riesling GG Alte Reben Reserve; Aroma: Very clean steely sweet acid, heady spice, rather rich & dense, light super-ripe notes; Outstanding-Superb
Schildknecht "Didn't fully convince me of its merits until I re-tasted it after more than a year in bottle and several hours' aeration. Site-typical fresh strawberry, kiwi and mingle in the nose with rarefied, high-toned suggestions of fruit distillate as well as mossy, alkaline and wet stone notes. The palate -- creamy, almost doughy, yet juicy -- is transparent to a corresponding set of nuances. Subtle salinity and zesty lime peel serve for saliva-inducement and invigoration in this beauty's long finish."
Was $175 Now $99 Net 12 bottles only
Order by phone at 617.367.8605, or reserve here: order@federalwine.com
&nbsp
Please pass this on to any friends who are wine enthusiasts.
&nbsp
- Len Rothenberg
&nbsp