Please note that the browser you are using is either outdated or not supported by this website. For a better browsing experience, try one of the following:
This Week's Tasting
Israeli Wines
March 15, 2018
Tonight we welcome the inimitable Bob Zohn, who makes up in gregarious taste for whatever he may lack in talmudic scholarship. He did get an aleph in Hebrew school. The subject this week is Israeli wines which we have chosen for their interest as well as being kosher, and many kosher for Passover.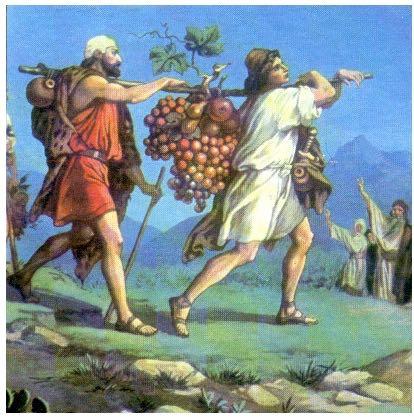 The grapes are as good as then, winemaking methods have changed a bit
&nbsp
They come from all over Israel, with grapes from the Golan Heights to the Negev desert. Two whites to start, a Pinot Gris from the Dalton estate in the higher altitude vineyard of the upper Galilee. Grapes for Shiloh Chardonnay come from the Judean desert. The cool nights and hot dry days preserve freshness, while limestone clay soils provide minerality.
The reds will begin with a very well priced Malbec from Barkan in the Judean plane. Then aRecanati Merlot from the coastal plain between Tel Aviv and Haifa that emphasizes berry fruit with hints of vanilla and clove from some wood contact.
Barrel aging enriches the Cabernet Sauvignon grapes grown in the cooler upper Galilee for the wines of Segal . Gvaot winery is relativelty new, only founded a dozen years ago. But it is receiving acclaim, especially for its Vineyard Dance Bordeaux blend grown in high-altitude vineyards north of Jerusalem.
The Jerusalem Vineyard sources the grapes for Its Shiraz from the Judean plain and an area just south east of Haifa . A small addition of Cabernet and Merlot adds complexity and 10 months aging in oak make for a full-bodied wine with red cherry and blackberry notes.
Dalton's Alma Scarlet is a reserve blend of Syrah, Grenache, Mourvedre selected from individual parcels of free run juice that are aged and then tasted before blending. They are then aged for 12 months in one-year-old French oak barrels for richness and complexity.
&nbsp
White
2016 Dalton Estate Pinot Gris 22.99; Mixed Case, 20.69; Case, 19.54
2014 Shiloh Chardonnay 36; Mixed Case, 32.4; Case, 30.6
&nbsp
Red
2016 Barkan Malbec 14.99; Mixed Case, 13.49; Case, 12.74
2014 Recanati Merlot 17.99; Mixed Case, 16.19; Case, 15.29
2014 Segal Cabernet Reserve 23.99; Mixed Case, 21.59; Case, 20.39
2016 Gvaot Vineyard "Vineyard Dance" 45; Mixed Case, 40.5; Case, 38.25
2014 Jerusalem Vineyard Premium Shiraz "3400" 23.99; Mixed Case, 21.59; Case, 20.39
2013 Dalton Alma Scarlet GSM 35; Mixed Case, 31.5; Case, 29.75
&nbsp
Mix any six bottles of the above wines for the mixed case price.
Mix any 12 bottles or more of the above wines for the case price.
&nbsp
Order by phone at 617.367.8605, or reserve here: order@federalwine.com
&nbsp
Please pass this on to any friends who are wine enthusiasts!
&nbsp
- Len Rothenberg