Please note that the browser you are using is either outdated or not supported by this website. For a better browsing experience, try one of the following:
This Week's Tasting
Champagne: 5 Estates, 2 Growers, 14 Wines
October 24, 2018
More and more people are discovering the pleasures of artisanal, grower-made champagne. They are wines made by individuals, not in factories. They show the different characters that soil, grape, and hand-crafted methods can bring to a wine.
&nbsp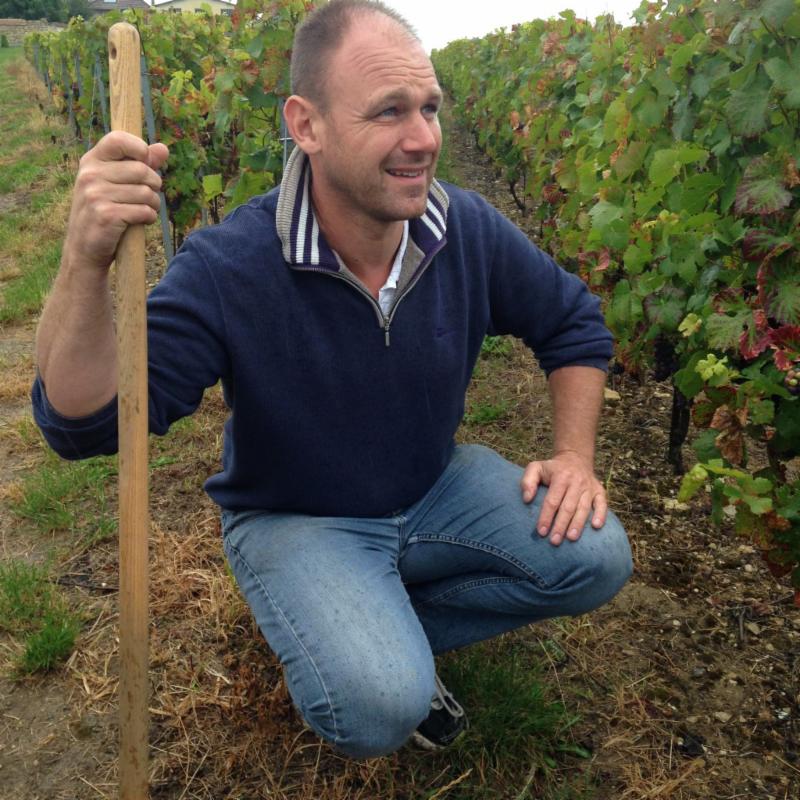 David Bourdaire
&nbsp
Wine Traditions, a small specialty importer, has brought us five of the most characterful, each from a different region of Champagne. At our special tasting prices you can get real character at the same or below some humdrum mass-produced champagnes. You can get even lower prices, 10% more for any mix of 6 to 11 bottles, and 15% for 12 or more.
We are especially honored to have two of their growers in person, David Bourdaire and Bernard Dumont who can tell you how and why they make the wines they show.
&nbsp
David Bourdaire, Bourdaire-Gallois - Massif Saint Thierry, north of Reims
&nbsp
David and his parents farm a mostly Pinot Meunier vineyard around the village of Pouillon. His vineyard was planted In 1923. Now the average age of the vines is 43 years. David farms sustainably, cultivating natural grasses between the vine rows and avoiding chemical fertilizers or pesticides. The vineyard is planted on low yielding root stocks and David vinlfles each parcel separately according to the specific stock "porte-greffe". .
David will present four wines, all nature, ie no dosage, that sugar added to smooth the cracks of a champagne. Despite their dryness they are not at all austere David will pour his all- Pinot Meunier Brut and Brut Rose; his Prestige, a blend with four years on the lees; and his the half barrel fermented Blanc de Blancs.
Bourdaire-Gallois, Brut $38
Bourdaire-Gallois, Brut Prestige $48
Bourdaire-Gallois, Blanc de Blanc $55
Bourdaire-Gallois, Brut Rose $47
&nbsp
Bernard Dumont, R Dumont et Fils, The Aube
&nbsp
The Champagne house of the Dumont family is in the southern Champagne region of the Aube, Three Dumont brothers work together to produce champagne exclusively from their own 22 hectares. The soils are the same chalky clay as in neighboring Chablis. The vineyard Is planted with 90% Pinot Noir and 10% Chardonnay.
Beginning with the Brut all wines are soft and ample. The 2006 Brut spends 5 to 6 years on the lees. The Rose is all Pinot Noir, not a blend of red and white but fermented as rose, a rare and difficult method in Champagne. the Solera is almost unique. It is a blend of over 20 vintages. Each year some chardonnay is put into and some drawn out of a tank that was first filled in 1991. It was one of the most popular wines in last year's tasting
R. Dumont Pere & Fils, Brut $33
R. Dumont Pere & Fils, Solera Reserve $45
R. Dumont Pere & Fils, Brut Vintage 2006 $50
R. Dumont Pere & Fils, Brut Rose $38
&nbsp
We will also taste wines from
&nbsp
Perseval Fage Montagne de Reims
&nbsp
Benoist and Isabelle Perseval who carry on a three centuries family tradition on a small estate in the ler Cru village of Chamery. The four hectares are planted with 50% Pinot Nolr, 35% Chardonnay and 15% Pinot Meunier. Besides his commitment to sustainability in the vineyard, Benoist has decreased the use of sulfur In his winemaking to less than half of the norm.
We will taste their C. des Pinots a Pinot Noir - Pinot Meunier blend, a Meunier wine from sandier soils , and the wine from their Les Goulats vineyard planted to Champagne's other traditional grapes, Arbanne, Petit Meslier and Fromentot (Pinot Gris).
Perseval-Farge, "C.de Pinots" 1er Cru Brut $45
Perseval-Farge, "Terre de Sables" 1er Cru Brut $52
Perseval-Farge, "Les Goulats" 1er Cru Brut Nature $83
&nbsp
Thierry Triolet Cotes de Sezanne
&nbsp
Thierry Triolet is located in part of narrow band of hills that are a continuation of the cCotes des Blancs. Traditionally,the Sezanne vineyards have been a source of excellent Chardonnay grapes for the large negociant Champagne houses to the north. Both wines we will taste are all chardonnay. The Grand Reserve stays 3 years on the lees. the Vielle Vigne is only made in fine vintages from vines older than 40 years.
Thierry Triolet, "Grande Reserve" Brut $36
Thierry Triolet, "Vieille Vigne" Brut 2012 $50
&nbsp
Jose Michel Cotes D'Epernay
Jose Michel has somewhat of a cult following for his Champagnes, The House was one of the founding members of the famous Special Club "Tresors de Champagne" They are a small village just south of Epernay. The 11 hectares of vineyards are spread throughout three villages along the Cotes D'Epernay. Fermentations are carried out in old oak casks or enameled steel vats. The wines undergo a malolactic fermentation and the dosage is minimal. Their Special Club bottling comes from 70 year old Chardonnay and Pinot Meunier, with at least 6 years on the lees.
&nbsp
Jose Michel, Special Club Brut 2012 $82
&nbsp
Any six - 11 bottles of the above for a 10% discount
Any twelve bottles of the above for a 15% discount
&nbsp
Order by phone at 617.367.8605, or reserve here: order@federalwine.com
&nbsp
Please pass this on to any friends who are wine enthusiasts!
&nbsp
- Len Rothenberg