Please note that the browser you are using is either outdated or not supported by this website. For a better browsing experience, try one of the following:
Giants of the Tuscan Revolution
2016 Montevertine Pian del Ciampolo,,2015 Isole e Olena Cepparello, 2015 Montevertine and 1995 Felsina Chianti Classico Rancia Riserva
October 7, 2018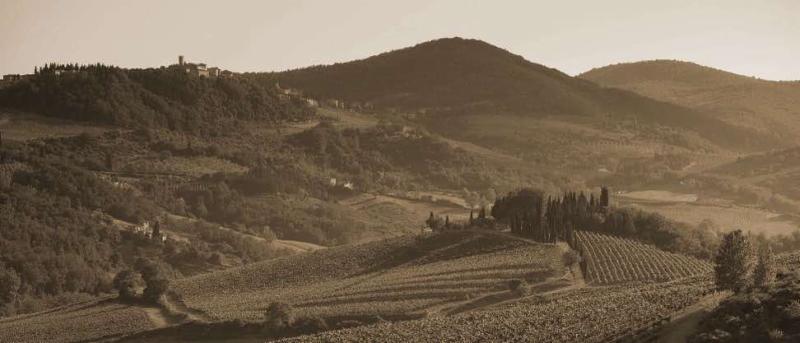 Montevertine
This offer is for three of the greatest Sangiovese wineries in Tuscany. A revolution happened to winemaking in Chianti in the sixties and seventies. These guys decided that the existing rules of production prevented them from making the best wine. Sergio Manetti at Montvertine, Paolo di Marchi at Isole e Olena and Giusppe Mazzocolin at Felsina all started producing wines that could match the best in the world. And they have just been getting better ever since. In general, 2016, 2015, and 1995 are all great vintages in Tuscany.
Montevertine produces three reds. The 2016 Montevertine Pian del Ciampolo is a single vineyard made with 90% Sangiovese blended with a bit of Canaiolo and Colorino. The 2015 Montevertine is a blend of the different vineyards on the property. The word most often used to describe three wines is "pure". Sergio Manetti really was a revolutionary and his son Martino carries on the legacy.
Meanwhile over at Isole e Olena, Paolo De Marchi decided to break the rules and bottle a 100% Sangiovese from his best vineyard called Cepparello. Through the years this has been one of the most highly praised Tuscan wines and continues to be. The 2015 Isole e Olena Cepparello is truly great. Paolo was just here a couple of weeks ago and he is happy with it.
We also have the opportunity to offer the last of the 1995 Felsina Chianti Classico Riserva Rancia. These cases just arrived from Felsina last week. Dominic Poggiali bought Felsina in the sixties and set out to improve the vineyard and the winemaking. Giuseppe Mazzocolin joined him in the 1970s and the wines became legendary. The 1995 at age 23 is still young and shows just how long the great wines of Tuscany can last.
&nbsp
2016 Montevertine Pian del Ciampolo: Arresting in its elegance, the 2016 offers a pure and direct nose of cherry, lavender, classic warm earth and roses. Effortless balance with fruit simultaneously rich and taut, savory spice and crystal clear acidity. Excellent 36/bottle 195/six pack 367/case
2015 Montevertine: Rich, pliant and super-expressive, the 2015 Montevertine is shaping up to be a magnificent wine. There is a radiance to the 2015 that is impossible to miss. At the same time, it's wonderfully polished, with more than enough freshness and overall structure to support many years of exceptional drinking. Red stone fruit and expressive floral notes give the wine much of its distinctive personality. The 2015 Montevertine is a real head-turner. (Antonio Galloni) Outstanding 65/bottle 351/six pack 663/case
2015 Isole e Olena Cepparello: The 2015 Cepparello is superb. Paolo de Marchi sold off 25% of the production only reserving the best for his magnificent flagship wine. Polished, silky, nuanced and exceptionally beautiful, the 2015 exudes freshness and energy from start to finish. Succulent red cherry, plum, lavender and tobacco notes have exceptional length. The purity of the flavors is striking. A monumental Cepparello and one that will be long lived. Outstanding 85/bottle 459/six pack 867/case
1995 Felsina Chianti Classico Riserva Rancia: Ruby red appearance with rich, intense tones. Spicy nose with floral notes and hints of wild berry (red and black), accompanied by mineral impressions and light toasted notes. Spice re-appears on the palate, which displays firm but supple tannins, and the finale is vigorous and taut. Overall, the wine is compelling for its flavor-rich mid-palate and supporting acidity. Outstanding 88/bottle 475/six pack 898/case
&nbsp
Special mixed case: 3 bottles of each of the above wines for a special price of $699
&nbsp
Order by phone at 617.367.8605, or reserve here: order@federalwine.com
&nbsp
Please pass this on to any friends who are wine enthusiasts.
&nbsp
- Peter Hemenway
&nbsp