Please note that the browser you are using is either outdated or not supported by this website. For a better browsing experience, try one of the following:
This Week's Tasting
Feasting On a Budget
November 8, 2017
What Wine with the Turkey? The answer is at the same time both simple and complex.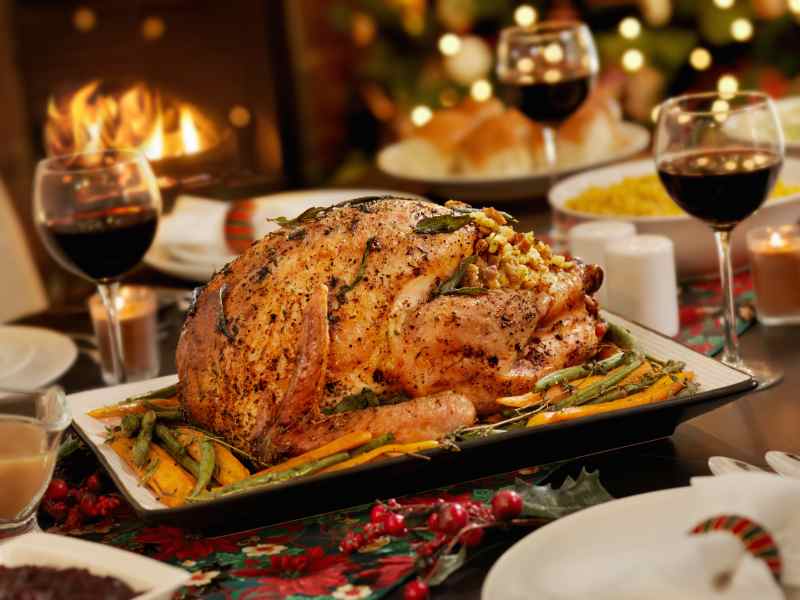 Turkey is a mild meat and can be accompanied by any red, white or pink wine that will not overpower it. Nearly every wine in this newsletter will go with a Thanksgiving turkey. But, as a guide for the perplexed, I've formulated some rules of thumb which I've dubbed:
Rothenberg's Three Maxims of Thanksgiving Wine
           1) Marry the wine to the stuffing - Turkey may be easy to match, but often the stuffing is not. If you've done a sweet fruit stuffing, a German Riesling or a Vouvray will not seem flat beside it. A heavily herbed savory stuffing is nicely partnered by an intense Alsatian Riesling or California Zinfandel or Cabernet Sauvignon. One exception to this rule lies in that, although Chablis is the perfect wine for oysters, it would be jarring with your oyster stuffed turkey. In such a case you would be better advised to:
           2) Please your dinner companions - Let Miss Manners be your sommelier and your guests will compliment you on your great, good taste. If Uncle Jack likes hearty reds, a Rhone or Zinfandel will go with the dinner, your sister-in-law likes only white wines; California Chardonnay or white Burgundy do a fine duet with turkey. Should your co-diners be teetotalers or unreconstructed beer drinkers, either try a seasonal beer or by all means:
           3) Please yourself - Bring up that bottle of old Burgundy that you've been hoarding in your cellar or give in to that yen for Cabernet Sauvignon. Thanksgiving is a time to indulge yourself a little, and leave the "rules" by on the wayside.
           Still at a loss? Try one of the wines in Feasting on a Budget Tasting or next week's Wines for the Feast tasting.
Peter's take synthesizes philosophy and etiquette:
Hemenway's Three Maxims of Thanksgiving Philosophy.
First, you must resist the urge to not invite family. However, having done that, one should monitor subjects for conversation:
A: Sex should only be discussed in the kitchen.
B: Ethics as a subject is okay, economic philosophy is not.
C: Politics is strictly forbidden, except to reference the Pilgrim's' flight from England.
D: Religion is fine, especially Shinto and Buddhism.
Second, try to insist that Champagne-not beer- be drunk during the football games. This is a good idea, since it will short-circuit any attempts on the part of fans to become existential.
Third, smoking, in case you didn't know, has become politically incorrect. Forbid all forms of smoking indoors-even if there is a blizzard (see above-efforts to reduce existentialism).
           Oh, as to the wines: aromatic whites (Riesling, Tocai Friulano, Gewurztraminer, etc.) and emotional reds (Pinot Noir, Nebbiolo, Sangiovese, Corvina, etc.)
This Week's Tasting

TONIGHT November 8th, 5:00 - 7:00

Feasting On a Budget
So Aunt Gertrude and her brood are coming for Thanksgiving, or you're hosting a buffet for your 20th High school reunion; or you have to supply the wine for a church supper. The people coming like wine, but they are not connoisseurs. You don't want to spend too much, but you don't want to drink boring swill yourself.
           This week's wines are for you.
Chardonnay? Why not?  We were impressed by the insouciant balance and attitude of the 2015 Dreyer-Sonoma Chardonnay, Sonoma County when we tasted it in September and we were even more impressed with the price we could offer for its quality. You will be too. Gertrude will love it. Just don't tell her what you paid.
           The Castel Sallegg winery in Alto Adige dates back to 1851 when it was founded by Austrian royalty. Today Count Von Kuenburg owns the estate and runs it in a very traditional way. The 2014 Castel Sallegg Gewurztraminer is a classic example of dry Gewurztraminer. The spicy balanced fruit and flowers make it perfect for the full array of Thanksgiving flavors.
The Hospices de Belleville is to Beaujolais what the Hospices de Beaune is to the Cote,a charitable institution that gets much of its income from vineyards that have been bequeathed to it. A couple of years back Drouhin agreed to make the Belleville wines for them. Their 2014 Drouhin Hospices de Bellville Fleurie was one of the discoveries of last week's Drouhin Dinner. It was full bodied and rather rich, very dense, brimming with black plum fruit. We are offering it a much less than its usual $25 price. You can drink it this holiday season or over the next two.
A visit last week from the Alain & Chantal Cazottes provided another sort of revelation. They own the small Domaine des Terrisses in southwestern France's Gaillac region. The red grapes are the local Baruacal and Duras (a bit of Syrah too) and the wine is smooth, medium bodied, and intriguingly herbaceous, just the thing for a sage stuffing.
           San Felice is a beautiful traditional estate in Chianti Classico. The 2015 San Felice Chianti Classico has rich flavors with balsam and spice. This is a great food wine for any night and would certainly help fill the bill for Thanksgiving.
            Wait till you taste the 2016 Ch. Platon, a not-so-simple Bordeaux. Youthful and vigorous, it is two thirds rich Merlot accented by the power and herbal structure of Cabernet Franc, Cabernet Sauvignon and a bit of Malbec. It's a strong and delicious winter weight wine.
White
2015 Dreyer Sonoma Chardonnay, Sonoma County; Aroma: Fine, herbal, clean pretty and rounded; Mouth: Light clean fresh nice acidity juicy, nicely tart; Very Good Plus15.99; Mixed Case, 14.39; Case, 13.59
2014 Castel Sallegg Gewurztraminer: Straw yellow. Medium bodied with classic aromas and flavors of stone fruits, mint, roses and lychee. Possessing a fine acidity and long dry finish. Very Good Plus 17.99/bottle
Red
2014 Drouhin Fleurie Hospices de Belleville; Color: dark with purple notes; Aroma: heady rather full, very dense; Mouth: deep, nicely chunky smooth, plum notes, long pure Gamay finish; Very Good Plus 19.99; Mixed Case, 17.99; Case, 16.99
2014 Domaine des Terrisses Gaillac Rouge; Aroma: heady sweet rather fresh, nicely herbed, clean firm, dense, pretty; Mouth: clean rounded smooth pretty bright acid fruit, rounded , Fresh herbal notes, firm, nutty finish, long; Very Good Plus 14.99; Mixed Case, 13.49; Case, 12.74
2015 San Felice Chianti Classico: Bright ruby. Medium bodied with balanced flavors ranging from cherry to balsam spice and a nice herbal undertone. Very Good Plus 16.99/bottle
2016 Ch. Platon (Bordeaux); Color: very dark ; Aroma: rather dense, full, very pretty full rich, herbal dense; Mouth: thick very rich sweet very dense & full fat, juicy nice body very clean,well structured and round; Very Good Plus 15.99; Mixed Case, 14.39; Case, 13.59
11-8 Budget Feast Case: Special, two each of the above wines - $174
Instore only 11-8 Budget Feast Pack: Special, one each of the above wines - $92
Some Other Suggestions:
White:
2016 Argiolas Costamolino Vermentino di Sardinia: 15.99/bottle
2015 Loosen Red Slate Dry Riesling 12.99  a steal
2014 Ch Beauregard St. Veran (Burrier) 19.99 New, round and creamy 7 cases only
2016 Tasca d'Almerita Mozia Grillo 23.99  see below
Red
2013 Compass Pinot Noir 15.99
2011 Bordon Rioja Reserva: 19.99
2010 Valle Reale Montepulciano d'Abruzzo Vigneto di Popoli: 18.99/bottle
2015 Brigaldara Valpolicella: 14.99/bottle
2012 Terre Rouge Syrah Cotes de l'Ouest robust California fruit, European sophistication
&nbsp
Order by phone at 617.367.8605, or reserve here: order@federalwine.com
&nbsp
Please pass this on to any friends who are wine enthusiasts!
&nbsp
- Len Rothenberg
(c) Federal Wine and Spirits Inc. 2017