Please note that the browser you are using is either outdated or not supported by this website. For a better browsing experience, try one of the following:
Arnaldo Caprai - The Beauty of Umbria
Extremely Rare Sagrantino
November 13, 2018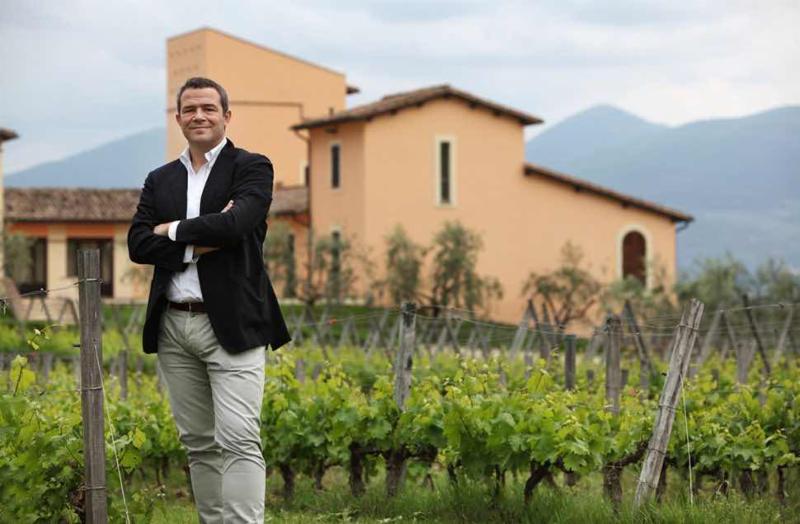 Marco Caprai popped in last week to show us an extremely rare new Sagrantino. The 2006 Arnaldo Caprai Spinning Beautyhas just been released and total production is 1000 bottles. Sagrantino is an Umbrian grape variety with limited production, mostly around the town of Montefalco. Arnaldo and Marco Caprai have been champions in the promotion of the beautiful wines that can be made with this grape.
The wines are tannic and for this reason cannot be released until they have been aged for 37 months. Marco has been making two wines for years. The 2012 Arnaldo Caprai Sagrantino Collepianois rich and tannic and a textbook example of this unique style of wine. The 2013 Arnaldo Caprai Sagrantino25 Anni is the Riserva they have been making since the 25thanniversary of the winery. I recently had the 2001 in Italy and the wine is still quite young. Then we have the new wine, the 2006Spinning Beauty, a super Riserva if you will that will only be made in the best years. This is extraordinary wine with a texture and complexity only found in the world's greatest wines.
The name "spinning beauty" is an ode to history since Arnaldo was originally a producer of gorgeous Italian textiles. When he founded the winery the first mission was to introduce the world to Sagrantino. He, and now Marco, have done that quite well and now produce these gems. They also produce a more everyday wine and we will include the 2015 Arnaldo Caprai Montefalco Rossoin this offer as well. This is a blended wine that is mostly Sangiovese (also grown in Umbria) with just enough Sagrantino to lift it up.
2015 Arnaldo Caprai Montefalco Rosso: Deep ruby. Dark ripe red fruit in a supple round style. Rich, dry and a long finish with attractive notes of vanilla. Great everyday red. Very Good to Excellent 22/bottle 119/six pack 225/case
These three wines are all 100% Sagrantino. The color is very deep. The fruit expression is cherry, blackberry and plum. The tannin is evident yet is expressed with a soft texture. The flavors are rich and spicy. As you go up the ladder here you gain old vine texture and amazing complexity.
&nbsp
2012 Arnaldo Caprai Sagrantino Collepiano: Excellent 53/bottle 286/six pack 540/case
2013 Arnaldo Caprai Sagrantino 25 Anni: Excellent to Outstanding 106/bottle 540/six pack
2006 Arnaldo Caprai Spinning Beauty: Superb 372/bottle 949/three pack
&nbsp
Special three pack: One bottle each of the three Sagrantinos for a special price of: $478