Please note that the browser you are using is either outdated or not supported by this website. For a better browsing experience, try one of the following:
2014 Bussoletti Brecciaro Ciliegiolo di Narni and 2015 Gurrieri Frappato di Vittoria
And Now for Something Completely New and Different
April 3, 2017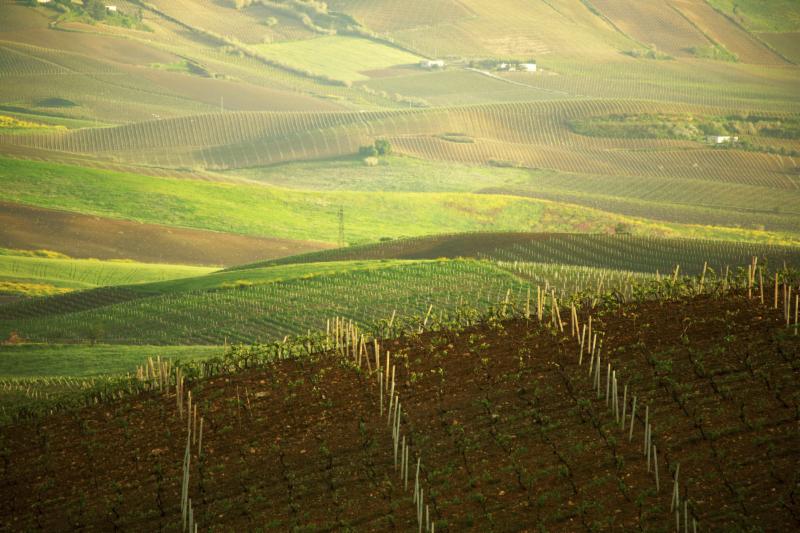 Spring in Italy
&nbsp
Okay, so many of you know that I am generally a seasonal contrarian with these wine offers and will put out a Barolo offer in July and a white wine offer in January. Today I decided to show you these exceedingly bright and delicious lighter red wines heading into spring and summer which is when you want to drink them. 
Leonardo Bussoletti is on a mission in Umbria to bring the Ciliegiolo grape back to its former glory of hundreds of years ago. This grape variety has long been used as a blending grape in Tuscany to soften Sangiovese. It also now has a growing success in the Marrema. Leonardo feels, however, that its best expression is in the Umbrian province of Narni. He has worked with the University of Milan on clonal selection and grows the vines organically. The 2015 Bussoletti Brecciaro Ciliegiolo di Narni is one of three single vineyard bottlings he does. The wine is wonderfully aromatic and has terrific balance.
Meanwhile down in Sicily the Gurrieri family makes some very fine traditional wines. They are in the province of Vittoria where the warmth and the fertile soils give us fruits and vegetables of singular flavor and texture. This is true of wine grapes as well. There is a purity of flavor and aromatics in the 2015 Gurrieri Frappato di Vittoria that is just attractive as hell. Frappato is a grape variety native to south east Sicily that historically produced wine more or less for the locals. It is being discovered by the wine world and now we are lucky enough to be able to procure some. This wine is also wonderfully aromatic and delicious.
Both of the wines in this offer are light reds. This does not mean there is nothing there. In addition to the wonderful aromas and flavors there is also structure, just enough to be perfectly supportive. These wines are extremely versatile with well cooked foods and also at your next garden party. We suggest serving both slightly chilled.
2014 Bussoletti Brecciaro Ciliegiolo di Narni:  Ruby. Lip smacking bright cherry notes with rose and violet overtones and balsam undertones. Supple tannins and good acidity with cinnamon notes in the finish.  Very Good Plus Plus  21/bottle 214/case. 
2015 Gurrieri Frappato di Vittoria: Ruby. Aromas and flavors of wild red berries, rose and violet and light asian spice. Raspbery, white pepper and a hint of orange peel in the finish as the wine opens up.  Very Good Plus Plus  21/bottle 214/case.
&nbsp
Special mixed case: six bottles of each of the above for a special price of $214. 
Wines will Arrive Wednesday, April 5, 2017
&nbsp
Order by phone at 617.367.8605, or reserve here: peter@federalwine.com
&nbsp
Please pass this on to any friends who are wine enthusiasts.
&nbsp
- Peter Hemenway
&nbsp