Please note that the browser you are using is either outdated or not supported by this website. For a better browsing experience, try one of the following:
Clos St. Antonin
Domaine Janasse's Newborn Sister
March 10, 2018
&nbsp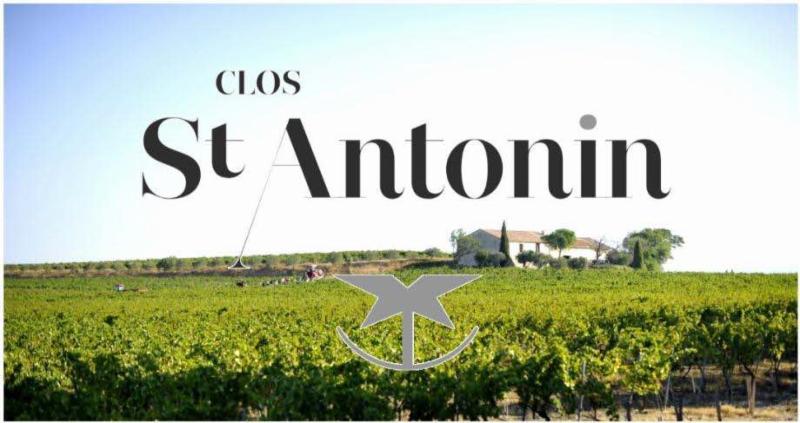 A visit this week from Christophe Sabon, the proprietor of Chateauneuf du Pape's highly regarded Domain de la Janasse estate. He had with him some very fine 2015s which we will offer in the near future.
But he and I talked about his family's new project, centered on the estate purchased in 2014 by his sister, Isabelle, in the newly promoted appellation Cotes du Rhone Villages Plan de Dieu the aptly named 'God's Plain' located to the west of Gigondas. They have named the estate Clos St. Antonin. The Sabons added to it 2 ha of vineyards from the sandier soils of Janasse Chateauneuf du Pape, ones that Christophe loves for the elegance of its wines. He tends the vines while Isabelle does the winemaking.
I tasted their first releases from the 2015 vintage, and was particularly impressed by the three wines, an opinion that has been shared by many critics who specialize in Rhone.
The Chateauneuf du Pape is all grenache from those sandier soils from Janasse and is a fair representation of the Pinot-like quality that Sabon loves . Jeb Dunnock summed it up:
"Its medium ruby color is followed by an exceedingly elegant silky 2015 that has notes incredibly elegant, with fine tannins, it's a gorgeous drink to enjoy over the coming decade. Like the elegant, finesse-driven style of Rayas . Buy this wine."
The Plan de Dieu is the origin and heart of the estate. It is a big structured wine with lots of intensity, one built to last.
Revue du Vin de France "The nose is a waltz of fruit & spice. One is smitten by its olfactory elegance. The mouth is a fine grained caress and a pretty interpretation of terroir. With air, the wood obscures the fruit a tiny bit. This is a wine to follow."
Jeb Dunnock "deeper in color than the base Cotes du Rhone and offers more currants, blackberries, scorched earth, and roasted garrigue - it's medium full bodied elegant, seamless red that has loads to love."
Wine Advocate "made of stern stuff. A blend of 50% Grenache, 25% Syrah and 25% Mourvèdre, it boasts firm, chewy tannins to go along with scents of cola, spice and blueberries. The flavors linger but turn a bit warm on the finish. Drink it with hearty foods over the next few years."
Cotes Du Rhone is a simpler version at a great price.
Wine Advocate "80% Grenache, with the balance a blend of Syrah and Mourvèdre. It's a bright, crisp wine, boasting upfront cherry fruit, smooth tannins and an enriching hint of chocolate on the finish. It should drink well for several years."
Dunnock "A blend of Grenache , Syrah & Mourvedre brought up all in concrete tanks. This juicy raspberry, garrigue and pepper based beauty has tons of fruit, medium bodied richness, a supple texture and a clean finish. It's a rock solid Cotes du Rhone to drink over the coming 3-4 years.Pretty hedonic wine but with a fine grain of supple tannins. The fruit shows pure and is already nicely open."
These wines are very, very good and as the domain is new, the prices are so far much lower than those of Janasse.
&nbsp
2015 Clos St. Antonin Cotes du Rhone; Color: light red black; Aroma: fresh, rather spicy lean, nicely herbal , softly mellowed herbaceousness; Mouth: clean lighter bodied, blackberry, kirsch pepper, light smooth, fine acidity finish , long; Very Good Plus 14.99; Mixed Case, 13.49; Case, 12.74
2015 Clos St. Antonin Plan de Dieu Cotes du Rhone Villages; Color: light red black; Aroma: lightly heady, earthy, firm, pretty deep black cherry, lightly earth spice; Mouth: thickish, juicy, bright herbal acid, clean, fresh tight, youthful herbaceous, long & sweet; Very Good Plus 24.99; Mixed Case, 22.49; Case, 21.24
2015 Clos St. Antonin Chateauneuf du Pape; Aroma: light red black, berryish & fresh, lighter clean ; Mouth: pretty lighter pinotish, sweet fruit, lighter, very fresh, very clean tight finish, feminine; Very Good - Excellent 50; Mixed Case, 45; Case, 42.50
&nbsp
Special 2015 Antonin Sampler Case 4 each of the wines above $299
all in stock
Order by phone at 617.367.8605, or reserve here: order@federalwine.com
&nbsp
Please pass this on to any friends who are wine enthusiasts.
&nbsp
- Len Rothenberg
&nbsp