Please note that the browser you are using is either outdated or not supported by this website. For a better browsing experience, try one of the following:
This Week's Tasting
Better than Quotidian Wines
February 21, 2018
Quotidian, everyday wines are this week's focus. Some are familiar names, Chardonnay, Pinot Noir, Sauvignon Blanc - in our tastings all behave better than their peers at their price level. Others are new and creative expressions of grape and place.
&nbsp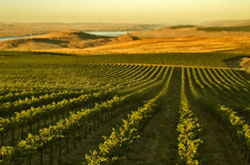 &nbsp
        Frost and hail created a shortage of good upper Loire Sauvignon Blancs like Sancerre and Pouilly Fume. The 2016 Paul Buisse Touraine Sauvignon Blanc nicely fills that gap. It has the classic Loire lemon and stone with a breadth on the palate unusual at its price.
        The sleek complexity of Russian River Chardonnay has created a premium price for it. Raeburn, a micro-negociant blend shows its characteristic tropic-tinged apple in a wine of satisfying weight and richness.
        Chenin Blanc can make a complex wine with vivid fruit and satisfying richness, but too many fall short in an imbalance like the three-bears porridge; too lean, too fat, too dull or fruity. The 2016 Domaine de Petit Clocher Anjou Blanc, although dry, gets it right with generous fruit and zingy acidity enough to stand up to even spiced oriental dishes.
        Pinot is ubiquitous but in forms as varied and lop-sided as Chenin Blanc. The 2013 Compass Pinot Noir California also gets the balance right with poise and elan. Great price too.
        We are getting to like the newer offerings from Washington's Columbia Valley more and more. They are outperforming other West Coast areas in both definition and complexity on the palate. Two new negociant Cabernet-based wines this week have a rare combination that make a decidedly fine commentary compared to their California peers.
        The 2016 Intrinsic Red Blend combines Cabernet Franc and Malbec for some intriguing, less usual nuances. It is lively and lifted with some deep dark chocolate notes in a wine whose fine acidity makes it refreshing not leaden.
        The 2016 Borne of Fire Cabernet Sauvignon is very interesting. It comes from what is likely to be a new wine region called The Burn, just south of the Columbia River. With 10% Malbec it shows a bold richness, and structured complexity like some rather more expensive Washington Cabs. A heady wine, it unravels spicy smoke berry and earth flavors that want bolder red meat and cheese dishes. Like Intrinsic, it is not heavy or leaden with a 13.5 alcohol.         
&nbsp
White
&nbsp
2016 Paul Buisse Touraine Sauvignon Blanc; Aroma: heady rather dense, smoky lemon notes rather rich. Mouth: juicy rather right fine acid very ripe, vivid Loire Sauvignon; Very Good Plus 14.99; Mixed Case, 13.49; Case, 12.74
2015 Raeburn Chardonnay Russian River; Aroma: rather reserved, clean; Mouth: sweet fruity, lightly oaky dense, rich, Very Good Plus 17.99; Mixed Case, 16.19; Case, 15.29
2016 Domaine de Petit Clocher Anjou Blanc; Aroma: plummy, rather dense, rather rich full, complex lime blossom, honeysuckle pear; Mouth: clean rather semisweet firm, very bright acid, lingering finish, nicely herbal, tactile; Very Good Plus 16.99; Mixed Case, 15.29; Case, 14.44
&nbsp
Red
&nbsp
2013 Compass Pinot Noir California; Color: Light red black; Mouth: Sweet forward clean soft texture, lifted flavors firm very nice structure and body; Very Good 15.99; Mixed Case, 14.39; Case, 13.59
2016 Intrinsic Red Blend; Color: medium dark; Aroma: sweet nutty herbal, mocha underneath , very Cab Franc herbaceousness; Mouth: sweet fruity, very dense, lighter in body, smooth sweet oak , juicy, berry to start chocolate ganache to finish; Very Good Plus 21; Mixed Case, 18.9; Case, 17.85
2016 Borne of Fire Cabernet Sauvignon The Burn; Aroma: coffee, black currant, a touch of sweet oak; Mouth: lightly herbal, coffee, sweet currant fruit, firm soft tannins, long, finely gritty finish, compact and intense; Very Good Plus 21.99; Mixed Case, 19.79; Case, 18.69
&nbsp
2-21 Quotidian Case: Special, two each of the above wines - $186
Instore only 2-21 Quotidian Pack: Special, one each of the above wines - $99
&nbsp
Order by phone at 617.367.8605, or reserve here: order@federalwine.com
&nbsp
Please pass this on to any friends who are wine enthusiasts!
&nbsp
- Len Rothenberg
(c) Federal Wine and Spirits Inc. 2018