Please note that the browser you are using is either outdated or not supported by this website. For a better browsing experience, try one of the following:
2016 Rose and Arrow Pinot Noirs
Does Oregon Have Grand Crus?
September 28, 2018
"Brilliant, complex, and succulent, they're among the best, most arresting Oregon Pinot Noirs I've tried over the last few years." Elin McCoy Bloomberg News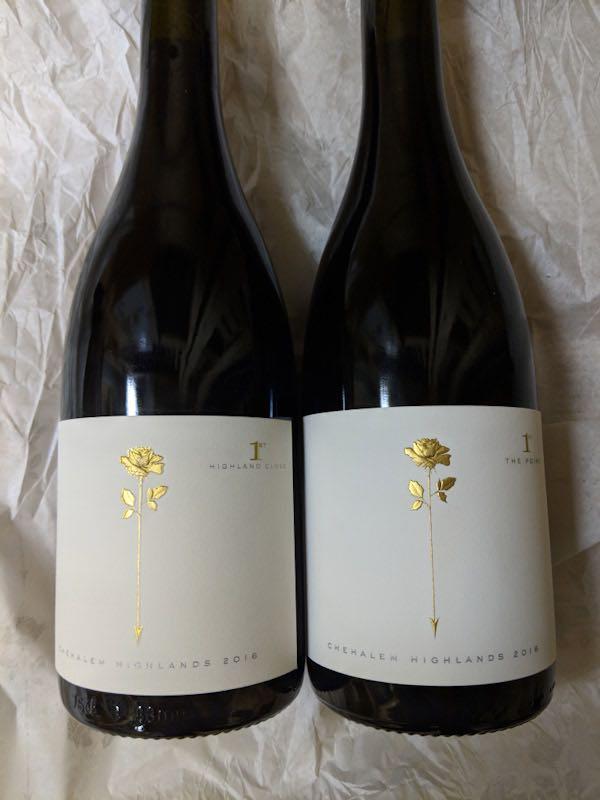 Recently a small group of customers and I experienced a new range of wines that are some of the finest and most expressive Pinot Noirs I have tasted in the last few years. Rose & Arrow is a new series from Willamette's Chapter 24. They are are truly extraordinary, the product of passion, contemplation, and artistry, and impeccable technical ability.
Despite all the differences in soil and climate, many a New World maker of Pinot Noir tries to the Burgundian mantra. Recognizing that Burgundy can only be made in that place, the wiser of them claim only to make something in the style of Burgundy. But Burgundy at its best is as much philosophy and art form as it is craft. The Rose & Arrow wines are the best of the very few I have tasted that reach that level.
The team is led by Mark Tarlov, ex of Evening Land, Louis Michel Liger-Belair, whose family domaine makes some of Vosne Romanee's most highly sought wines, and Pedro Parra who has an encyclopedic knowledge of Willamette terroir. They are engaged in the process of trying to identify the most expressive plots for Pinot. After tasting the wines from over a hundred parcels they control, they identified just seven, whose properties were so unique as to make exceptional wines of character.
Each is a single vineyard, usually at higher altitude, of minute upthrusts (Mark calls them pleats) of native volcanic soils. The five we sampled were as different from each other as any Burgundy communes.
They are not burgundy - the lodestone here is volcanic basalt, not limestone. The wines have a dark fruit of warmer climates but do not lose anything in elegance. The Point showed mineral closest to Gevrey's keening edge. The Highland Close was reminiscent of what people call Vosne Romanee's Iron Queen, but here the queen of a different nation and race.
These are complex and memorable wines. Tarlov and Liger-Belair label them "1st Expression," their parallel to 1er Cru. I think they are overmodest. These compare in individuality, personality and complexity with fine Grand Cru from an excellent Burgundy vintage. Nearly everyone who tasted with us, including several knowledgable burgundy lovers (and I) purchased some.
We have just 10 six bottle cases each of two wines. They are well worth your consideration and your cellaring. It will be fascinating to compare them in five or 10 years with their burgundy equivalents. They certainly stood up to a Liger-Belair Vosne-Romanee Reignots we tasted alongside. They are among the first Oregon Pinots I have tasted that are both articulated and powerful enough to stand that comparison.
Of the several Rose & Arrows Elaine Brown favorably reviewed for Jancis Robinson, we offer The Point - she compares it to Vosne - chacun a son gout. She did not review the Highland Close in our offer.
from Jancis Robinson's purple pages:
"Rose & Arrow is the new project from the Chapter 24 team that focuses in on niche areas of Willamette Valley rather than creates regional blends as seen in the Chapter 24 wines. These are a surprising jump in quality and nuance thanks partially too to a shift in the local winemaking team, and the consulting work of Pedro Parra to identify unique blocks of vineyards in the area, which are then vinified and bottled in small quantities
"Without suggesting that these wines taste like anything other than Oregon Pinots, but to give context, the [Stone Creek] is more of a Chambolle-Musigny compared with the Vosne-Romanée flesh of the Rose & Arrow Chehalem Highlands The Point. They are both excellent wines and it is simply a matter of preference.
2016 Rose & Arrow The Point, Chehalem Highlands
"Pretty, floral aromatics move into beautiful flavours in a mix of dark notes – dark fruits and spices – with nice lift and openness on the palate and a true balance of luxury and structure. Fine tannins with a refined mouthfeel and a nice balance of fresh flavours and mineral tension. There is lots of length and a crystalline-like mineral element offering tons of palate stimulation, savoury notes, and still just enough flesh to round out the length of the wine. Really beautifully done."
My notes:
2016 Rose & Arrow Pinot Noir Chehalem Highlands The Point - Organic; Color: very dark, rather dense, full; Aroma: Rather heady firm, rather tight acidity dusty, fragrant rather dense;Mouth: Rather heady very dense, meaty, very mineral, bright rather clean racy very firm, very bright sweet ;Outstanding $159
2016 Rose & Arrow Pinot Noir Chehalem Hills Highland Close - Organic; Aroma: lower toned, prose plum deep fruit, strong gunmetal low toned stone, layered and rich; Mouth: smooth very broad, rich fruit, iron and stone, savory , layered and gets richer and fleshes out with time in decanter and glass, layered and full, very long; Outstanding - Superb? $159
Case of Six in any mixture $799 (133.20)
Exclusively at Federal Wine
Len Rothenberg
Order by phone at 617.367.8605, or reserve here: order@federalwine.com
&nbsp
Please pass this on to any friends who are wine enthusiasts.
&nbsp