Please note that the browser you are using is either outdated or not supported by this website. For a better browsing experience, try one of the following:
2016 Clos St. Antonin Chateauneuf du Pape
a Fine New Estate Destined for Greatness
November 30, 2018
&nbsp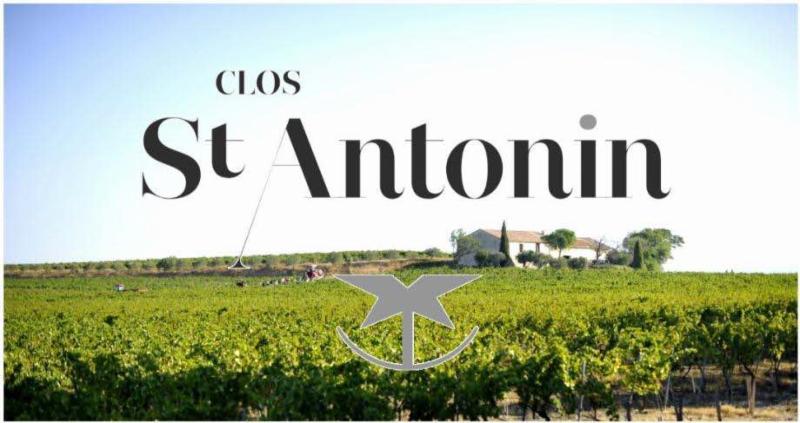 The critics are raving about the the 2016 Clos St. Antonin's southern Rhones,
Isabelle and her brother Cristophe Sabon, owners of the famous Domaine Janasse, purchased the property in the Plan de Dieu Cotes du Rhone Villages appelation to the west of Gigondas in 2014. They added to it 2 ha of from the sandier soils of Janasse Chateauneuf du Pape that Christophe loves for the elegance of its wines. He tends the vines while Isabelle does the winemaking.
We offered their 2015s last spring. Their 2016s are stunningly precise and pure.
The Chateauneuf du Pape is a fair representation of the Pinot-like quality that Sabon loves. Jeb Dunnock summed it up:
"the finest wine to date from this young estate (although it's made from one of the finest winemakers out there) ... 100% Grenache sourced all from the sandy parts of the La Crau and Font du Loup lieux-dits. It got more than a few wows in the notes and boasts a medium ruby color, heavenly notes of framboise, crushed flowers, and spice, full body, ultra-fine tannins, and an insane mix of power and elegance that's hard to describe. It's going to knock your socks off over the coming 15+ years."
Revue du Vin de France "a puree of black fruits and spices in the nose, this red is endowed with dense and refined fruit. It's textural quality is lovely. A beautiful wine with lots of material, complexity, depth and silkiness"
Wine Advocate "the poster child for the current trend toward elegant, almost weightless wines from that unique combination of variety and terroir. Raspberry and strawberry aromas and flavors pick up complex notes of garrigue as they glide easily across the full-bodied palate and into a long, silky-ethereal finish. It's a paradox that illustrates the specialness of Grenache in certain situations and which must be tasted to be understood."
2016 Clos St. Antonin Chateauneuf du Pape; Color: medium dark; Aroma: pretty rather fine clean, some edge, nicely firm, herbal, spicy; Mouth: clean sweet dense lighter firm, elegant, long herbal finish; Excellent 55; Mixed Case, 49.5; Case, 46.75
The Plan de Dieu - Cote du Rhone Villages is the origin and heart of the estate. It is a big structured wine with lots of intensity, one built to last. and gives extraordinary quality for the price.
Jeb Dunnock "has to be one of the great wines from this appellation - it offers awesome notes of cassis, blackberries, spice box, and licorice. Ripe full bodied, and powerful, yet also balanced and pure, do your best to latch onto a few bottles."
Guide Hachette 2 stars "a nose of mingled red strawberries, spices and underbrush, Ripe and powerful tannins support a warm, rich and fleshy mouth. A wine of character and potential."
2016 Clos St. Antonin Plan de Dieu Cotes du Rhone Villages; Color: medium dark opaque; Aroma: reserved, heady rather spicy very dense; Mouth: clean very rich, smooth, spicy, clean light firm, very fine, concentrated with smooth tannins; Very Good - Excellent 24.99; Mixed Case, 22.49; Case, 21.24
&nbsp
Special: 6 each of the two wines $408
Wine arrives Tuesday
&nbsp
Order by phone at 617.367.8605, or reserve here: order@federalwine.com
&nbsp
- Len Rothenberg
&nbsp