Please note that the browser you are using is either outdated or not supported by this website. For a better browsing experience, try one of the following:
David Ramey's 2013 Napa Cabernet Sauvignon
Its Dark Mysteries
April 21, 2017
&nbsp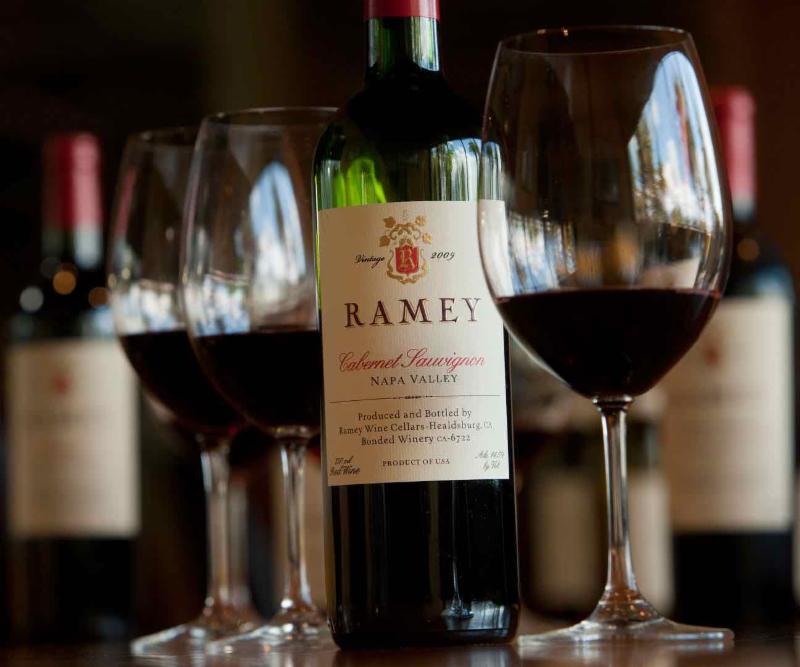 shaken, not stirred
A longtime maker of Napa Cabernets recently told me that warmer Napa vintages frequently come in pairs, with a cooler one following. The warmer vintage, whose wines are friendlier broader and richer at the get-go, usually gets the reputation as the great one, but the cooler vintage wines, more closed and backward at the outset do much better in the long run.   He thought that  2012 and 2013 would be just such a pair as were 1974-1975 and 1990-1991.
I agree with him, tasting 2013 Cabs after their 2012s. Case in point - David Ramey's 2013 Napa Cabernet Sauvignon. The 2012 was warm and friendly, with instantly appealing currant-plum fruit.
The 2013 is completely a different animal. At the start it's reserved - you won't get  past its harder, slightly bitter tannins. But you can coax it out with time. You've got to taste through to the heart of the wine, to its core, and the 2013 has more heart and muscle and sinew than the prettier, plusher 2012.
It's brooding and layered, darker toned and more complex, with strong notes of graphite and dark chocolate. With breathing or decanting it is more evocative and suggestive. It is extraordinary wine, more Bordeaux-like with an air of mystery. 
It's a keeper, but like me, you may be tempted to drink it young. If so I would recommend a method I learned from David.
Open the bottle and fill a glass or two, so you have some air space in the bottle. Firmly replace the cork (if you are confident and brave just cover the mouth of the bottle with your thumb.).
With the bottle horizontal in your two hands vigorously shake from side to side for a minute or two.
Not a pretty method, but it tenderizes the wine in the same way that pounding or needle prongs will tenderize the steak that you will drink the wine with. It works better than the $20 whirly-gig aerator-stoppers you see online, and you don't have to decant for three hours.
&nbsp
2013 Ramey Cabernet Sauvignon Napa; Aroma: very aromatic, heady & dense, graphite, with bright acid, dark chocolate notes; Mouth: dense smooth, fine acid tannic backbone, brooding, mocha & pencil shavings, structured hard, rather dense, full; Excellent $60
&nbsp
Special Case   $599 (49.92 per bottle)

Half case $324
Arrives Tuesday
Order by phone at 617.367.8605, or reserve here: order@federalwine.com
&nbsp
Please pass this on to any friends who are wine enthusiasts.
&nbsp
- Len Rothenberg
&nbsp