Please note that the browser you are using is either outdated or not supported by this website. For a better browsing experience, try one of the following:
2013 Domaine de la Biscarelle Chateauneuf du Pape Les Anglaises
Richness that Defies Gravity
November 19, 2016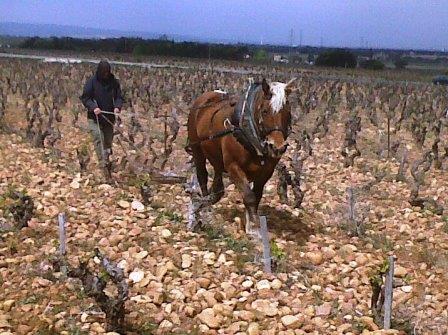 A man, a horse, 10,000 galets roules
Some wines seduce you with power, others with refinement. Most Chateauneuf du Papes rely on a dense, succulent fruit that puts them more in the former group; a few like one of the finest, Ch. Rayas, lean toward refinement.
The  Revue du Vin de France found that quality of "Rayas lace" in Domaine Biscarelle's Chateauneuf du Pape Les Anglaises. Biscarelle is an estate in northern Chateauneuf du Pape run by Christelle et Jérôme Grieco. The soils in the estate are a mixture of the  red clay and sand with a slope of Chateauneuf's round galets so thick that it must be cultivated with a horse
Les Anglaises, their top vineyard is planted to 100 year old Grenache vines. Until 2008 the grapes went into Chapoutier's best cuvees, when the Griecos began estate bottling. They are minimalist in their approach, no de-stemming, no new-oak. They want the grapes to sing for themselves.
With the 2013 Les Anglaises they got a Pavarotti. In a vintage of lighter wines, its old vines give it superb concentration, density without being too heavy. It is more graceful than most Chateauneufs but does not lack in power. It is centered and well balanced, poised, and delineated. 
It offers up a subtle and beguiling scents of provencal spice, coriander that made me want to return again and again to taste it. 
France's Bettane & Desseuve had a similar reaction:
"The nose has a striking personality, with meaty notes but also a lot of noble spices forming an offbeat but savory contrast, superb body and quality tannins"
The les Anglaises will drink now with decanting but also improve for 5 - 7 years. I was still enjoying the bottle I had two days after opening. I highly recommend it.
The wine will arrive the first week of December.
2013 Domaine de la Biscarelle Chateauneuf du Pape Les Anglaises; Aroma: heady very rich , pure, very clean, firm, dense, & ripe; Mouth: very dense rather rich, very full,, clean, bright acid back, rich very dark, smooth concentrated fine elegant tannins, pure, very pretty, very fine, of a piece; Excellent $57
&nbsp
Special Prearrival Case $539.88 (44.99)
Half  case  $279  ($46.50)
&nbsp
Special mixed 6 pack:  Three bottles of each of the above for a special price of $ 386
Special mixed case:  Six bottles of each of the above for a special price of $729
&nbsp
 WINES WILL ARRIVE END OF NEXT WEEK
Order by phone at 617.367.8605, or reserve here: order@federalwine.com
&nbsp
Please pass this on to any friends who are wine enthusiasts.
&nbsp
- Len Rothenberg
&nbsp