Please note that the browser you are using is either outdated or not supported by this website. For a better browsing experience, try one of the following:
2018 La Spinetta Langhe Bianco Sauvignon Blanc
Top Tier Italian Sauvignon Blanc
August 5, 2022
&nbsp
Free Delivery - see below
&nbsp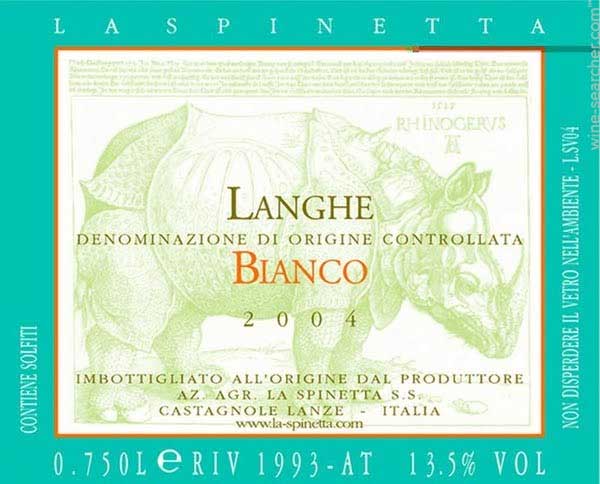 &nbsp
In the 1990s, Giorgio Rivetti discovered he had a small plot of Sauvignon vines growing inside his other vineyards in high elevation Mango and Treiso. He first bottled this in 1999. It soon became apparent that what we had here was in the top tiers of white wines produced worldwide. We can tell you that Giorgio's model for this wine was Haut Brion Blanc which most of us have never had because it is so scarce and expensive. You cannot set a higher standard than that.
The 2018 La Spinetta Langhe Bianco Sauvignon has layered complex flavors and aromas that appear, disappear, blend and bounce off each other in a very different and always balanced combination. Soil, grapes, and oak combine to give a seamless structure in a wine that ages very well. Production is very limited. Still, Giorgio always finds some to ship to Federal, which he does after aging the wine in oak, barrel, and bottle for four years.
2018 La Spinetta Langhe Bianco Sauvignon: Bright straw with green highlights Grapefruit and hazelnut foliage contrast with flint and calcium minerality. Firm, fresh, inviting green pear with notes of sea salt. Savory tarragon and passion fruit with balanced acidity and weight. Elegant and rich with excellent structure and finesse. Notes of honeysuckle in the integrated oak finish. Outstanding 65/bottle
&nbsp
Special six pack: 6 bottles of the above for a special price of $336 (56 bottle)
Arrives Tuesday
&nbsp
&nbsp
- Peter Hemenway
&nbsp
---
&nbsp
FREE DELIVERY!
downtown on orders more than $75;
in Greater Boston on orders more than $199
&nbsp