Please note that the browser you are using is either outdated or not supported by this website. For a better browsing experience, try one of the following:
This Week's Tasting
Wines for the Feast
November 7, 2018
This week two intense spicy whites, an intriguingly complex Pinot Noir, a classic Zinfandel, an assertive Rhone red, and a classy and classic estate Chianti; all selected to be as impressive as your cuisine on your holiday table.
&nbsp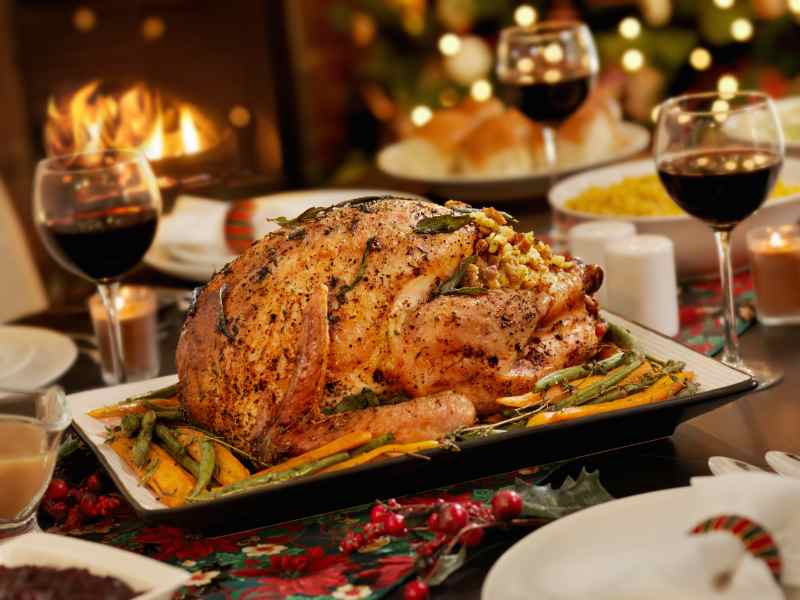 also could be white, rose, or champagne
&nbsp
Baker turned winemaker Francois Villard has made some excellent wines in the fine 2016 Rhone vintage. His single vineyard Condrieu Deponcins is stunning, a powerfully intense Viognier, redolent of almonds and lime, spicy enough for rich stuffings.
Warm sun and red slate make Wurzgarten the "spice garden" of the Mosel town Erden. Gifted winemaker Ernie Loosen fashioned an extraordinary Riesling GG from the favored Fischerei site within it in the great 2015 vintage. This is a fine example of Riesling's Great Growth equivalent of French grands crus. Dry and deep with barrel influenced earth tones, it is a riesling of power and richness that can grace your table this year and and the next ten,
Pinot Noir is a labor of love for talented young winemaker Marc Rafael. when he is not making his family's fine Napa Cabernet. He gets a small quantity of grapes from a friend's 25 year-old organic vineyard in Anderson Valley. His Pinot Noir Lauren's Cuvee has a good structure and sumptuous fruit, at the same time not losing mulled plum character that marks Anderson Valley fruit. Solid and delicious.
Ridge, the emblematic Zinfandel producer, has made what Antonio Galloni calls a "knockout" in the 2016 vintage. Geyserville, their premier bottling, is an ageworthy wine this year. Medium bodied, its aroma of Zinfandel spice opens slowly but lingers. It is medium bodied with softly tuned, but nicely rounded flavors and good structure.
2016 is as fine in the southern Rhone as it is in the north. Case in point; Domaine Pignan Chateauneuf du Pape. It is classic Chateauneuf , intense with berry and garrigue herbs, mineral and smoke. Medium weight, it is satisfyingly incisive and direct on the palate., a lively counterpoint to red meat and fowl. It is the best of the moderately priced Chateauneufs we have tasted recently.
The 2015 Dievole Chianti Classico Vigna Sessina Gran Selezione is simply fantastic. Vigna Sessina is Dievole's greatest vineyard and has been chosen to represent Dievole as the Gran Selezione label. As a farm and winery Dievole has always been great and today is run with great respect for tradition and authenticity. Peter has a special attachment to this wine. He has been visiting Dievole for many years. and actually helped plant the Sessina vineyard in 1993. As to food, wild mushroom stuffing would be a good call, or you could put some lasagna on the table like we do every year.
&nbsp
White
2016 Francois Villard Condrieu Deponcins; Aroma: mineral earthy rather dense, fruity acidity, firm, firm; Mouth: clean bright lemon-limey, firm, juicy acidity, good tension and mouth clinging richness firm; Excellent 69; Mixed Case, 62.1; Case, 58.65
2015 Dr Loosen Urziger Wurzgarten 'Fischerei' G G Riesling; Aroma: Clean very dense rich red slate, deep; Mouth: Fine rather rich, Fine mineral, edgy, bright, a very nice tension between mineral and fruit, open and rich with ages to go; Excellent - Outstanding 45; Mixed Case, 40.5; Case, 38.25
&nbsp
Red
2015 Rafael et Fils Pinot Noir Lauren's Cuvee- Organic; Color: cloudy; Aroma: fresh very pretty, rather firm, fragrant, fleshy; Mouth: very pretty very nice, clean, elegant very nicely textured, classic Anderson mulled plum, finely textured; Very Good - Excellent 45; Mixed Case, 40.5; Case, 38.25
2016 Ridge Geyserville; Color: heady very rich, laden, very dense; Aroma: another dimension, deep, ineffable; Mouth: smooth rather rich very thick texture, smooth, deep , dark notes, clean fine acidity, long, deep finish; Very Good - Excellent 51; Mixed Case, 45.9; Case, 43.35
2016 Domaine Pignan Chateauneuf du Pape; Color: medium light clean; Aroma: very fine pretty fine acid, clean firm, rather firm; Mouth: bright finely textured, firm, sweet fruit, nicely dense, firm, clean, sweet & precise with an assertive pointed drive; Very Good - Excellent 40; Mixed Case, 36; Case, 34
2015 Dievole Chianti Classico Vigna Sessina Gran Selezione: Bright ruby. Windy aromas of orchard flower and violet, deep cherry and tobacco and black pepper. Rich complex Sangiovese flavors with note of herb and game. Long complex finish. Excellent 68; Mixed Case, 61.20; Case, 57.80
&nbsp
Any six - 11 bottles of the above for a 10% discount
Any twelve bottles of the above for a 15% discount
&nbsp
Order by phone at 617.367.8605, or reserve here: order@federalwine.com
&nbsp
Please pass this on to any friends who are wine enthusiasts!
&nbsp
- Len Rothenberg