Please note that the browser you are using is either outdated or not supported by this website. For a better browsing experience, try one of the following:
A Three Nebbiolo Omelet
2013 Monsecco Pratogrande Nebbiolo, 2009 Massimo Clerico Lessona and 2013 Brovia Barolo
October 31, 2017
&nbsp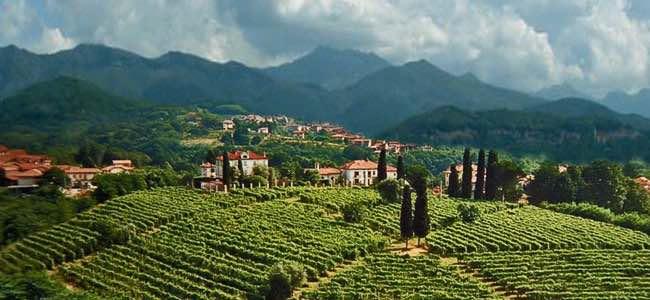 &nbsp
View of Lessona
&nbsp
Today we are offering three different Nebbiolo wines from three different locations in Piedmont. All three will make you very happy without breaking the bank. This is important for those of us who love Nebbiolo.
The 2013 Monsecco Pratogrande Nebbiolo is from the Novara hills around Gattinara in northern Piedmont. Monsecco is an historic property dating back to 1872 that has garnered a stellar reputation over the years. Since the Zanetta family took it over in the 1970s the wines have become even better. Giorgio Zanetta makes this wine from his vineyards in Colline Novaresi .
Moving over to the village of Lessona we find Massimo Clerico. Lessona is a small village that has a very special and unique soil which allows for Nebbiolo of a great and particular character to be made. The Clerico family has been farming this land since 1700. The 2009 Massimo Clerico Lessona is made from old vine Nebbiolo. This is a wine of great character which is just drinkable now and will age well for a very long time.
Meanwhile, further south, the wines of Barolo are enjoying a surge in demand which has caused prices to go up and smaller allocations for each market. The Brovia estate in Castiglione Falleto makes some of the best traditional Barolo you can find and is still priced very fairly. The 2013 Brovia Barolo is a classic. The vintage started with a late snow in the spring. This also happened in 1964 and 1978 which are two of the greatest vintages ever. If you are younger than me you should buy some.
2013 Monsecco Pratogrande Nebbiolo: Refined, with bright cherry, roses, and mineral with subtle tannins. Very Good Plus to Excellent 22/bottle 225/case (18.75/bottle)
2009 Massimo Clerico Lessona: Very interesting with intense dark fruit, smokey acidity and tannin running throughout. Notes of flower and juniper in the complex finish. Excellent 46/bottle 470/case (39/bottle)
2013 Brovia Barolo: Poised and complex. Cherry, balsam, leather, anise, violet. Balanced structure with bright acidity and refined tannins. Excellent 51.00/bottle 520/case (43/bottle)
&nbsp
Special mixed case: Four bottles of each of the above for a special price of $405
Special six pack: Two bottles of each of the above for a special price of $215
&nbsp
Order by phone at 617.367.8605, or reserve here: peter@federalwine.com
&nbsp
Please pass this on to any friends who are wine enthusiasts.
&nbsp
- Peter Hemenway
&nbsp