Please note that the browser you are using is either outdated or not supported by this website. For a better browsing experience, try one of the following:
The Perfect Chablis for This Season
Two from Sebastien Dampt
July 29, 2017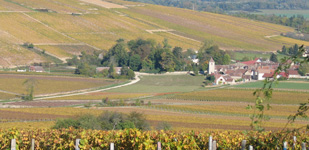 Cote de Lechet
A sunny summer by the water. Briny oysters, clams or mussels on the shell. Swordfish or halibut on the grill. The perfect wine is Chablis, one that is light and fresh perhaps a touch of lemony citrus to tingle the palate.
In 2015 Sebastien Dampt made just this sort of wines. 
He is the youngest member of an old Chablis growing family Chablis. In 2007 he decided to go off on his own with a 15 acre domain. He got immediate critical praise.
He makes his wines with a light modern touch, using cooler fermentation, and extended aging on the fine lees. He makes his wines with no hard acid edges, as go through all all all malolactic fermentation.
At the same time he respects tradition and terroir and. His Chablis are finely balanced with just the right amount of extraction to allow fine Chablis chalk to taste through.
I love the two 2015 I tasted. Both are poised and lively with pure fruit and elegance.
I experienced the village Chablis was much like Jancis Robinson "First Chablis of the day and what a pleasure: chalky, fresh lemon aroma, so Chablis. Super-dry chalky texture, but here the dry texture makes it moreish and mouth-watering when combined with the fresh acidity and delicate fruit. You could drink this now."
I got to try to Sebastien's 2015 1er cru Chablis Cote de Lechet also. It is more mineral and has more weight and longevity then underline and is perfect company for those seafood dishes that call for a bit more resistance from their wine.
&nbsp
Both Chablis are excellent and very well priced for what they are.
&nbsp
2015 Sebastien Dampt Chablis; Aroma: light clean pretty, light clean mineral; Mouth: juicy lemony, clean nicely fresh pretty, lively, light chalk, smooth textured; Very Good Plus
Decanter "Great purity on the palate. Lovely expression of just-ripe stone fruits. A touch more ripeness than 2014 but still has an evidenced thread of fine acidity. Elegant and classy example of a communal chablis. Drink now to 2022"
$22.99; Case, 234.48 (19.54)
&nbsp
2015 Sebastien Dampt Chablis Cote de Lechet 1er cru; Aroma: light lemony, crisp, pretty fresh, light , lithe and lively; Mouth: juicy fresh intense very full, fine acidity, of a piece, nice minerality very pure; Very Good - Excellent
Decanter : "Hint of sous bois on the nose. From 50 years old vines. Low yields but shows great restraint combined with excellent concentration. Very mineral but also has a warmth on the palate. A top example of Côte de Léchet."
Jancis Robinson :"Salty citrus aroma, just slightly smoky. Tight, grainy and fresh."
Tim Atkin MW "The old vine concentration really shows in this wine from the youngest of the three Dampts. Earthy and mineral, with attractive leesy texture, some honey and ginger spice and a sappy, saline finish. Beautifully judged. 2017-22"
$38; Mixed Case, 34.2; Case, $387.60 (32.30)
&nbsp
Special case of six of each $311
&nbsp
Wine arrives Next Tuesday
Order by phone at 617.367.8605, or reserve here: order@federalwine.com
&nbsp
Please pass this on to any friends who are wine enthusiasts.
&nbsp
- Len Rothenberg
&nbsp