Please note that the browser you are using is either outdated or not supported by this website. For a better browsing experience, try one of the following:
This Week's Tasting
January Red & White Sale
January 9, 2019
This week two intense spicy whites, an intriguingly complex Pinot Noir, a classic Zinfandel, an assertive Rhone red, and a classy and classic estate Chianti; all selected to be as impressive as your cuisine on your holiday table.
&nbsp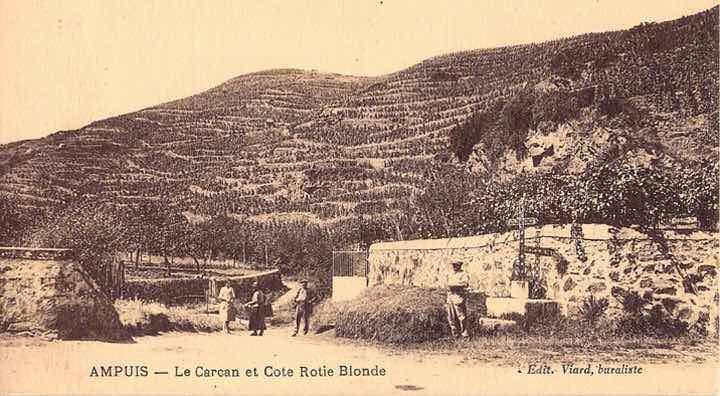 &nbsp
Sometimes we bought a little bit too much of something very good; sometimes we forgot that something was here;. That means that we have to let some very good things go at bargain prices to make room for the stock that's coming in.
This week two whites, four Bordeaux and two very fine Rhones at prices that can't be beat. In most cases inventory is limited to stock in hand. All prices are net per bottle with no further discounts.
&nbsp
White
A tony Nantucket restaurant commissioned the Vincents of Ch. Fuisse to bottle a special edition of their JJ Vincent Bourgogne Blanc. They wanted their Piece d'Or to have extra wood aging and the best lots of the 2014. But they didn't use it all. The season over, the importer offered it to us at a reduced price. We can offer this macon Chardonnay from the very fine 2014 vintage at an unbeatable for vintage and region.
We loved Isabel Sabon's white Southern Rhône very much when we tasted it with her last spring. Most of it was sold but we have a couple of cases left and the next vintage is on its way.
&nbsp
Red Bordeaux
Chateau Puyanché is better than its simple Bordeaux appelation. When I tasted this wine last June I was immediately struck by how much character its 20% Cabernet Franc gives to the Merlot grape. Eminently quaffable it is was steal anmd is now an almost giveaway.
Philippe Faure of the noted St., Emilion family, owns Ch. La Caze Bellevue in the southeast of the appelation. The soils are a mix of clay limestone and sand and gravel. , the grape mix four fifths Merlot to one Cabernet Franc. Last June tit struck me as more as a wine more of finesse and elegance then the power but it may well have opened up since then. I was certainly impressed by its poise and delineation.
Aurore de Dauzac is the second wine of the Margaux classed growth Ch. Dauzac. The Wine advoate :Wine Advocate wrote"a blend of 59% Cabernet Sauvignon and 41% Merlot. It has a clean and pure bouquet of dark black cherries and sorbet fresh citrus fruit that are well defined. The palate is medium-bodied with slightly grainy tannin, well-judged acidity and a structured, graphite-tinged finish. This is a very commendable deuxième vin."
2015 Ch. Tour St. Cristophe is modern St. Emilion at its best, 80% Merlot, and 20% Cabernet franc with extensive wood aging. One critic called it the best value in Bordeaux today for high quality wine at a fair price. Now it is even better.
&nbsp
Great Discounts on Two Fine Red Rhones
The family-run Domaine la Barroche benefits from vineyards that represent the range of soils of Chateauneuf, from sand to sandstone to the rounded cailloux that many think to be classic. The wines are suave and sophisticated, especially in the more structured but lighter 2013 vintage. It is more poised than powerful, elegant for the appelation. This Chareauneuf will give lots of pleasure while you wait fir the bigger 2015s and 2016s to come around.
Unlike the oceans of wine in the southern Rhone, the syrah vineyards in the north are much smaller and produce much less. This has driven prices for the esteemed and desired appellations of Cote Rotie and Hermitage into a Burgundian stratosphere, even for more mediocre wines.
Francois Villard is in the upper echelon of producers. His 2015 Francois Villard Cote Rotie Le Gallet Blanc is superb, with all the higher toned raciness of Cote Rotie balanced by the ripe fruit of 2015 Still a bit young but characteristic, it will make wonderful drinking iover the next few years. We made a special purchase and can offer what was an $80+ wine at $49.99. Some is going in my cellar, but I will make sure there is some left.
"The [2015 Villard] Gallet Blanc seduces with its fruit and peppery side. The oak treatment is nuanced and the cuvee is very nicely balanced." RVF Guide to the Best Wines of France 2018
&nbsp
White
2014 JJ Vincent Bourgogne Blanc Piece d'Or Very Good Plus Was 19.99 Now 13.99 NET per bottle
2017 Clos St Antonin Principaute d'Orange; Aroma: Very pretty & fragrant, light Provencal spice; Mouth: Clean nicely firm, pretty fine acid very ripe with a piquant herbal gloss over the broad chardonnay fruit; Very Good Plus Now 14.49 NET
&nbsp
Red Bordeaux
2015 Ch. Puyanche (Bordeaux); Color: very dark; Aroma: heady nicely ripe , very pretty fruity with fine acidity, ; Mouth: smooth clean, nicely herbal, good character from the cabernet Franc ; Very Good Was 14.99 Now 11.99 NET
2015 Ch. La Caze Bellevue (St. Emilion); Aroma: elegant very pretty fresh, fresh rather clean; Mouth: smooth very pretty nice delineation, sweet acid, clean, elegant, lighter bodied; Very Good Plus Was 19.99; Now 15.99 NET
2015 Aurore de Dauzac (Margaux); Color: very dark black; Aroma: sweet fruit intense, very nicely ripe, juicy bright and broadly earthy; Mouth: clean fine firm, juicy sweet fine acid rounded & fleshy, mouth-filling, with fine underlying tannins, still a bit young, with much promise; Very Good - Excellent Was 37; Now 25.99 NET
2015 Ch Tour St. Christophe (St. Emilion Grand Cru); Aroma: very oaky very rich, lean mineral, ; Mouth: juicy bright sweet acid rich, extracted, fine tannins, 2 very juicy very dense sweet more linear, bright; Very Good- Excellent Was 45; Now 34.99 NET
&nbsp
Great Discounts on Two Fine Red Rhones
2013 Domaine La Barroche Chateauneuf du Pape; Color: very dark opaque, ; Aroma: bright raher clean silky, fresh light rather clean, , fresh; Mouth: smooth rather sweet, clean bright acid, a touch over ripe, sweet finish lighter, very smooth texture, sweet fruit, a touch of garrigue on the finish; Very Good - Excellent Was 56 Now 39.99 NET
2015 Francois Villard Cote Rotie Le Gallet Blanc; Color: very dark opaque, rather dense; Aroma: very dark rather dense spicy, , very deep raher dense, full, more fruit than character; Mouth: clean lighter smooth texture fleshy in the middle, rather fine tannins, very fine acid astringency in the finish, long, somewhat reserved in character; Excellent Was 83; Now 49.99 NET
&nbsp
Order by phone at 617.367.8605, or reserve here: order@federalwine.com
&nbsp
Please pass this on to any friends who are wine enthusiasts!
&nbsp
- Len Rothenberg