Please note that the browser you are using is either outdated or not supported by this website. For a better browsing experience, try one of the following:
2013 Sottimano Barbaresco Pajore and 2012 G D Vajra Barolo Ravera
Double Your Pleasure, Double Your Fun
November 14, 2016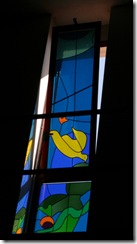 Stained Glass in the Vajra Cellar
This is your chance to discover, if you haven't already, that Barbaresco is just as good as Barolo. Nebbiolo wines at this level  are unlike any others made in the world and provide stellar experiences at the table. The two wines in this offer are simply great examples of each.
First up we have the 2013 Sottimano Barbaresco Pajore. The Sottimanos are considered by every wine expert to be among the finest growers in Barbaresco. Rino has been working since the 1960s to acquire some of the best land and cultivate the vines in a natural and organic way. In the winery spontaneous fermentation is follwed by aging in barrels made by the finest producer in the wold. Rino and Andrea produce four cru Barbarescos. Pajore is the one located in Treiso. Wines from here tend to have a more spicy character. The 2013 Sottimano Barbaresco Pajore is from one in a series of excellent vintages. Velvety elegant tannins and a spicy floral aromas mark this wine.
Next, we offer the 2012 G. D. Vajra Barolo Ravera. The Vajra family is also dedicated to natural wines with the same passion. You can consider their wines to be the product of a group of artists and poets who believe in appreciating beauty and nature. The winery is located in Vergne in the Barolo commune near La Morra. They acquired a portion of the Ravera vineyrd on the Novello/Barolo border several years ago and the wine was just called Langhe Nebbiolo until now.  Aldo and Giuseppe Vajra consider the vines to be old enough now to use the name Barolo. The 2012 G. D. Vajra Barolo Ravera is a wine with great balance between power and elegance.
These are exactly the type of great wines I love to offer. Both are family owned small to moderately sized wineries that are run by passionate and articulate people. At Vajra, Aldo put stained glass windows in the winery to allow those working there to experience artistry and beauty daily. (The tree filled atrium is a good touch also). At Sottimano the wine cellar is literally a part of the house.
2013 Sottimano Barbaresco Pajore:   Complex, pure, and classic. Cherries and pepper framed by licorice and clove. Old vine creamy texture with balanced full structure. A finish that goes on forever. Very very very nice.    Excellent to Outstanding    75/bottle  405/six pack  765/case
2012 G D Vajra Barolo Ravera:    Striking aromatics in an intense well balnced and beautifully structured wine. Black cherry, flowers, balsam and spice. Long textured finish. Shows all of the best attributes of fine Barolo.   Excellent to Outstanding     68/bottle  367/six pack  694/case
&nbsp
Special mixed 6 pack:  Three bottles of each of the above for a special price of $ 386
Special mixed case:  Six bottles of each of the above for a special price of $729
&nbsp
 WINES WILL ARRIVE END OF NEXT WEEK
Order by phone at 617.367.8605, or reserve here: peter@federalwine.com
&nbsp
Please pass this on to any friends who are wine enthusiasts.
&nbsp
- Peter Hemenway
&nbsp