Please note that the browser you are using is either outdated or not supported by this website. For a better browsing experience, try one of the following:
2016 Vieux Télégraphe Chateauneuf du Pape
One of the Best of a Fine Rhone Vintage at a prearrival price
November 5, 2018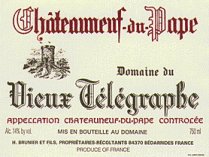 In the southern Rhone 2015 was the vintage for sensualists, 2016 more for those who appreciate ageworthy wines of great purity and balance. I am firmly in the latter group. My tasting last April in Chateauneuf du Pape were reinforced in Boston this fall,
The 2016 Vieux Télégraphe Chateauneuf du Pape stood head and shoulders above most others of both vintages. it combines power and richness with a very fine structure and impeccable balance. It is a wine to cellar and will be approachable in a few years but last up to 20. I loved it on first second and third taste. So did the critics below.
" backward and dense, with a huge mid-palate, notes of framboise, black cherries, roasted herbs, nori, and spice, a thick, opulent texture, and yet no sense of weight or heaviness. With ripe, polished tannin and a blockbuster finish, it might just be the greatest wine from this estate to date." - Jeb Dunnock
" Potent, mineral-accented Chambord, cherry compote and licorice aromas are complicated by suave lavender and Asian spice qualities. Seamless, round and alluringly sweet, offering lush red and blue fruit preserve and floral pastille flavors and a hint of five-spice powder. Finishes sappy, sweet and extremely long, featuring velvety tannins and resonating florality." Josh Raynolds, Vinous
"Undoubtedly one of the top vintages of this wine, [it] features classy notes of crushed stones and black tea to go along with ripe raspberries and black cherries. Full-bodied yet silky, there's more power and richness in La Crau than in Piedlong, yet there's commensurate elegance and finesse. The wine grows in intensity on the finish without ever seeming heavy or overripe, instead offering hints of tea and licorice." -Wine Advocate
We have been able to purchase a small quantity of this wine to offer at the same prearrival price that others did last spring. Our wine will arrive toward the end of the week.
&nbsp
2016 Vieux Telegraphe Chateauneuf du Pape La Crau; Aroma: Clean racy very fine, spicy & full; Mouth: Clean smooth very rich firm, lively acids, juicy, well structured, nicely angular underneath, a complex, complete wine with richness without weight; Outstanding $76 per bottle Net
&nbsp
Order by phone at 617.367.8605, or reserve here: order@federalwine.com
&nbsp
- Len Rothenberg
&nbsp