Please note that the browser you are using is either outdated or not supported by this website. For a better browsing experience, try one of the following:
2016 Albino Rocca La Rocca Cortese
Piedmont's Finest
June 5, 2018
&nbsp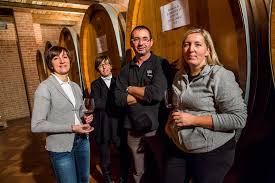 The Rocca Family in the Cellar
&nbsp
               Albino Rocca is well known as a top producer of Barbaresco and we always have some of that in the store. They also make a fantastic white which we can only get occasionally. The 2016 Albino Rocca La Rocca Cortese has just arrived.
               Cortese is the grape variety that is used to make the justly famous Piedmont white Gavi di Gavi. The La Rocca Cortese vineyard is in Barbaresco. This location gives this white more depth and finesse. The Italian wine guide Gambero Rosso simply says that the Albino Rocca Cortese is one of the finest Piedmont whites. This is from a single vineyard and the vines are about 40 years old. The soil is clay and limestone.
               The vineyard is only a couple of acres and yields are kept low, so the total production is very small. We get the entire allocation for Massachusetts. The wine is in the store now.
2016 Albino Rocca La Rocca Cortese: Straw with green highlights. Deeply textural with notes of pear, peach and orange oil. Displays a kind of electric richness with a chalky zesty finish. Excellent 31/bottle
&nbsp
Special six pack: Six bottles of the above for a special price of $168
Special case: Twelve bottles of the above for a special price of $316
Order by phone at 617.367.8605, or reserve here: peter@federalwine.com
&nbsp
Please pass this on to any friends who are wine enthusiasts.
&nbsp
- Peter Hemenway
&nbsp